GT-Four Model Variation - Caldina GT-T
(yes I know it isn't a GT-Four, but it is the closest thing to the GT-Four Toyota still make!)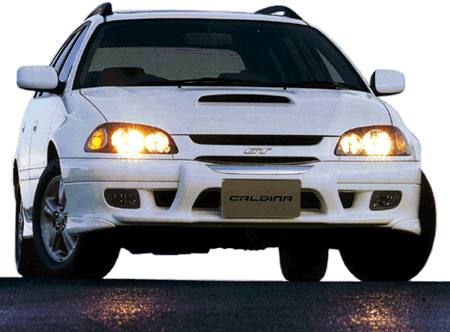 The latest variant of the 3S-GTE is fitted to the Caldina station wagon, an evolution of the Corona sedan. The car is available with a 5 speed manual or a 4 speed Tiptronic style auto with buttons on the steering wheel. The engine implementation and plumbing is quite different to the ST205, and visually has more in common with the VVTi 3S-GE. The car does not have VVTi as some sources have reported.
This is the first 3S-GTE to come with an auto gearbox. It has actuator buttons on the steering wheel.
A definite option to being yet another Legacy driver (Legacys are common as hell in New Zealand!) and they are now down to around NZ$20000, as opposed to NZ$15000 for a 1994 ST205.
| | | | | |
| --- | --- | --- | --- | --- |
| | Head on view showing the air-air intercooler. Given the large grill it is a pity they didn't go for front mount air-air. I'm sure it will be a popular mod! | | This view shows the new intake manifold with the throttle body at the end. The MAP sensor is bolted directly to the manifold (little purple thing just behind strut bar). This engine has individual coils, one of which is just visible. | |


Back to GT-Four models Page.

Back to Home Page.