GT-Four Model Variation - ST165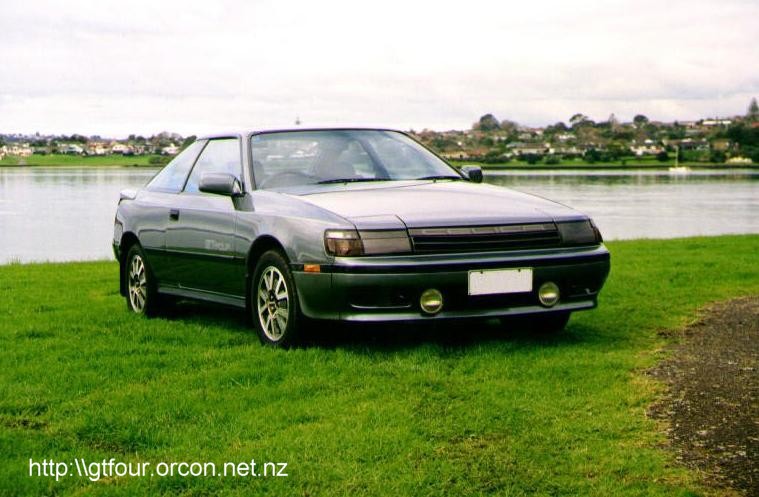 The ST165 was released in October 1986. The first 2274 cars produced were for the Japanese market only. They differed from the later cars in a number of aspects, including a different gearbox (with a manually locking centre differential instead of the later viscous differential). The front brake calipers are different and the front spoiler has the bottom edge painted black. They also lack the facelift changes made to all Celicas in 1987 (grill, taillights and interior changes). Due to the limited production run these are the rarest GT-Four model of all (possibly excluding the ST185 Rally).
The only options on the Japanese market ST165s were cruise control and an electric sunroof. Exterior colour choice was red, white, black and grey. Interior was grey half-leather only.
During August 1987 production changed over to the facelift model. Except for the gearbox, calipers and addition of a boost gauge the changes are pretty much styling only. If you are ever trying to identify a ST165 engine at an engine importer, the pre-facelift engine has a green alternator plug, the post-facelift has a black one!
The ST165 was an all new model for Toyota. Although based upon the front wheel drive Celica ST162, the floorpan of the ST165 is extensively revised. Most of the body structure is shared above the floor though. The engine is a development of the 3S-GE. The turbo, manifolds etc are of course new, however the concept is the same. I believe the internal components are uprated, unlike the 93+ 3S-GTE which has common internals (except pistons) with the 3S-GE. The ST165 turbo is similar to the 7M-GTE Supra one, which can be fitted in its place (the Supra one flows more).
There are a number of people out there that feel that the ST165 is one of the best GT-Fours of all. There are certain aspects of the design that make it a better performance car than the subsequent ST185 (like the neutral handling as opposed to the ST185s understeer). Team Toyota Europe continued to rally the ST165 long after the model had been superseded.
Export models differed from Japanese models in that they had the full bodykit (Japan only got the front bumper), they had ABS as an option, and came with either full leather or fabric.
Production ended during September 1989. Only other change since the facelift was the addition of a gearbox oil cooler.
| | | | | |
| --- | --- | --- | --- | --- |
| | A repainted ST165 (never available in yellow). This car has the export spec full bodykit, which also had the side mouldings in bodycolour instead of black.. | | A modified Japanese model ST165. | |


Back to GT-Four models Page.

Back to Home Page.